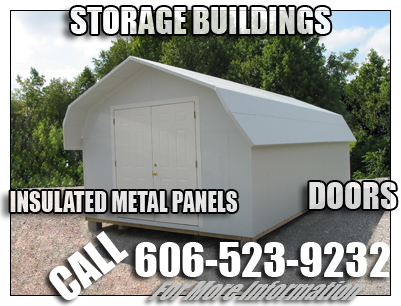 Welcome To Our Site
Friendly Service - Quality Products
Affordable Prices - 1 Year Guarantee on Buildings
Tri-County Panels is located in Corbin Kentucky. We offer our customers a wide selection of insulated metal panel storage buildings, doors, pre-hung doors, windows, & insulated metal panels. Our metal panels are available in both routed and unrouted. We also have fiberglass panels available.
Insulated metal panels can be used for a wide variety of things. We offer dog houses made from metal panels that can help protect the family pet. If your in the Corbin Kentucky area, stop by and see our desk made from metal doors. Around Corbin folks have used metal panels to make signs or to build a nice workshop.
We offer free delivery of buildings up to 12' X 24' within a 25 mile radius of our North Corbin location. We will also build, on site, up to & including 16' wide.
We offer our customers financing through Central Finance Company.
We are currently building our website to better serve our customers. If what your looking for hasn't made it here yet, Please give us a call for more information on our products.
We would enjoy the chance to get to talk to you!
606-523-9232